Community Land Trust Awards 2023
Our chance to celebrate all the wonderful achievements of community land trusts over the last year
Celebrating the CLT movement
The CLT Awards are our annual awards that celebrate the amazing things happening in CLTs across England and Wales, as well as the leaders that drive this change.
Our 5th annual CLT Awards will take place on Saturday 25th November 2023.
Nominations Now Closed
Thanks so much to everyone who submitted a nomination for the 5th Annual CLT Awards. Nominations are now being judged and award winners will be announced at the CLT Network's AGM and Awards ceremony.
CLT Awards Categories
Take a look at our 5 CLT Awards Categories – including a brand new category for this year – Lead Goose!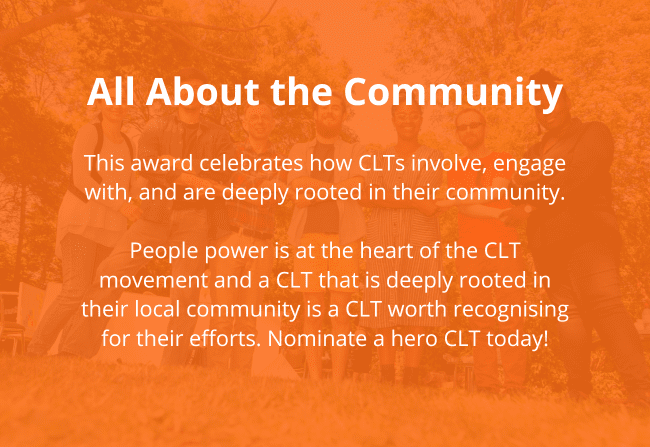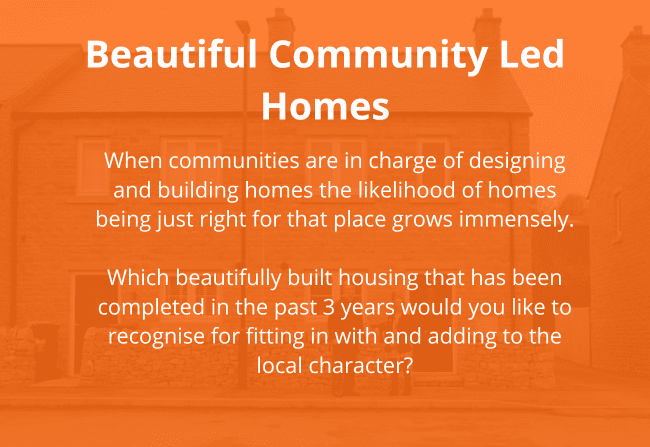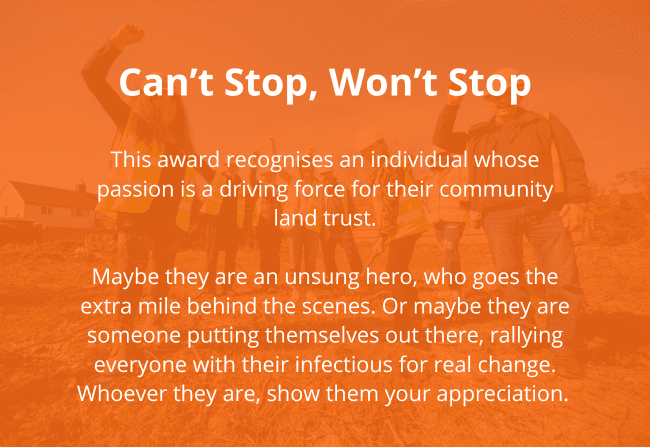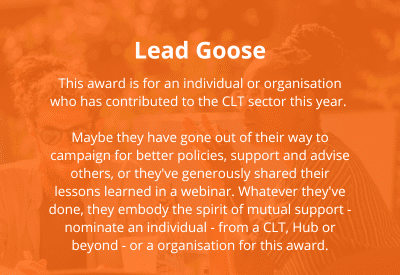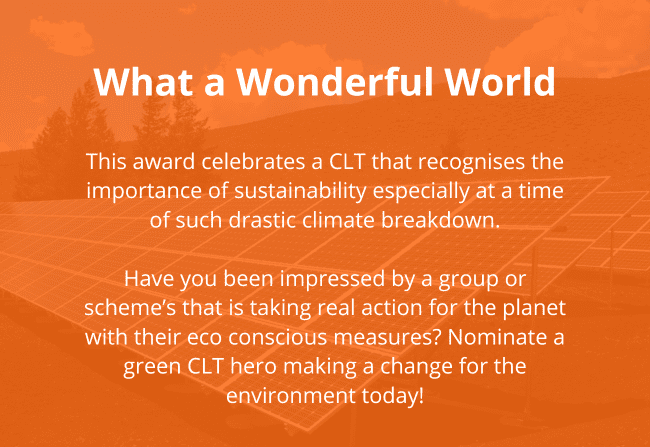 Winners from 2022
Expand each category below to learn about last year's categories and the winners! 
Can't stop, won't stop - Fran Ryan, Oxfordshire CLT
The Can't Stop, Won't Stop award is about individual achievement. Celebrating the people whose passion is such a driving force and inspiration to others. Or the unsung heroes who consistently go the extra mile, doing vital work behind the scenes.
The CLT movement is full of inspirational people. This year's winner has dedicated nearly 20 years to support her local CLT. She wasn't a housing professional when she started with the CLT, but it's probably fair to say she is now – although she may dispute this! On the subject of Oxfordshire, its dire need for affordable housing, and the role CLTs can play, she does so with passion and authority. She is inspiring.
Like many other CLTs, the journey has not been easy. There have been many of twists and turns, projects developed, plans scuppered. But along with her CLT colleagues she has remained dogged and the quest to build affordable CLT housing in the area has continued.
Oxfordshire CLT is now on site and the construction has started.  This person has played such an important role in making this happen.
And the winner is ….  Fran Ryan from Oxfordshire CLT!
Beautiful Community Led Homes - Bradwell CLT
When communities are in charge of designing and building homes the likelihood of homes being just right for that place grows immensely.
The winner here has balanced the needs of the community with the heritage of the surroundings. In the middle of a national park, and as part of the redevelopment of an old engineering works in the village this project has been able to bring about much-needed housing that has been designed to blend seamlessly with existing homes. The project has brought new life to an old industrial site.
And the winner is … Bradwell CLT!
All about community - Newton and Noss CLT
The All About The Community award celebrates how CLTs involve, engage with, and are deeply rooted in their community. People power is at the heart of the CLT movement and the CLTs that have been nominated this year are no exception!
The winning project grew out of a significant need for affordable homes for local people in an area with exceptionally high house prices and an increasing number of second homes. The team has worked tirelessly, spending hundreds of hours at community consultation events, site meetings, planning meetings and developing relationships with key partners.
All this has contributed to the approval of their local allocations policy and the granting of permission for 18 socially rented homes on gifted, serviced land as part of a larger site.
And the winner is … Newton and Noss CLT!
What a wonderful world - Swaffham Prior CLT
This award celebrates a CLT that recognises the importance of sustainability, especially at a time marked by such drastic climate breakdown. The CLT movement can – and is – delivering projects of huge importance, together we can set the standard for the way future homes need to be built and renovated.
The winning nomination is recognised for delivering a groundbreaking project to install a renewable-powered district heating system in their village, with an aim to take as many households off oil as possible. 
They did all this after completing their affordable housing project, demonstrating the power of community and the remarkable things CLTs can achieve.
And the winner is … Swaffham Prior CLT!
Nominees from 2022
Nominees – Can't Stop Won't Stop

– Andrew Bibby, Calder Valley CLT
– Dave Smith, London CLT
– Fran Ryan, Oxfordshire CLT

Nominees: Beautiful Community Led Homes

– Bradwell CLT
– Bridport Cohousing CLT
– Heart of Hastings CLT with Hastings Commons
– London CLT / Citizens House (Lewisham)

Nominees – All about community

– Bristol CLT
– Forest CLT
– Kensington Fields CLT
– Newton and Noss CLT

Nominees – What a wonderful world

– London CLT / Cable Street (Shadwell)
– Middle Marches CLT
– Plymouth Energy Community
– Stourbridge CLT
– Swaffham Prior CLT 
A word about geese
We award the winners of the CLT awards with a wooden goose and 'honk' to show our approval.
This is to reflect on the spectacular sight of geese flying together in a V formation. Each bird flies slightly above the bird in front of them, reducing wind resistance and take take turns being the leader.
Just as the birds fly together to chart the path and make it easier for those after them, individual CLTs and their leaders inspire and motivate others. In the CLT movement, CLTs take turns to lead, to support others, and the others 'honk' encouragement to the leader.
And all this means we can all carry on delivering on the things our communities want and need for longer!