Book a CLT Ambassador
Champion CLTs at your next event by booking a CLT Ambassador
We've brought together CLT activists to shout about the movement
We all know how much change CLTs can transform their communities in so many ways.
But to many, it's still a bit of a secret. 
That's why we've trained a group of CLT champions who understand the magic of CLTs to speak at your events and to the press.
The benefits of booking an ambassador

EXTRA CLOUT
CLTs are inspiring to many, but getting started can also be daunting. Hearing others speak of their own experiences and how they are making their plans a reality is powerful.
Whether there are few CLTs in your area to draw on, or you want to mix it up — a CLT Ambassador fits the bill.

DIVERSE VOICES
Every community is diverse and it's important that CLTs are genuinely representative and inclusive. Events are a great way to provide a platform for different voices.
Our CLT Ambassadors come from across the country and are diverse in terms of their backgrounds and experiences. They are raring to spread the word and help grow the movement.

DRIVE CHANGE TOGETHER
For more people to know about and understand what CLTs are, more people need to be championing them.
This is an opportunity to grow the CLT ecosystem and work together to mainstream CLTs. The CLT Ambassadors care deeply and have been professionally trained to showcase the movement.
Meet our CLT Ambassadors
Located across England and Wales, each ambassador brings their own experience, passion and ability to galvanise and inspire more communities into action. See below for their individual specialisms.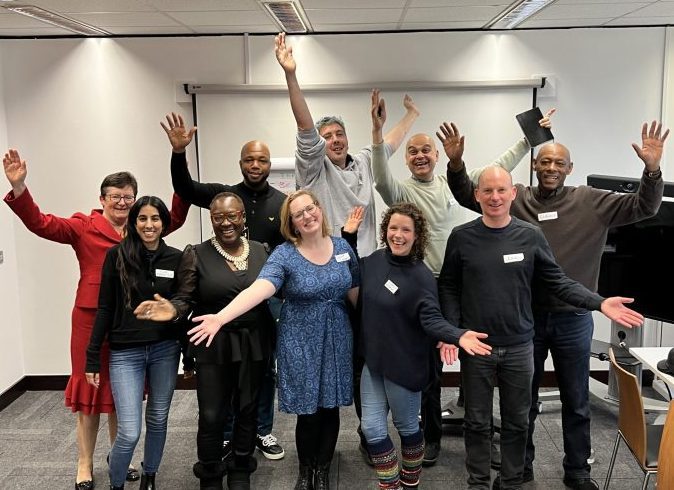 Top row (L to R): Jacqui Wilding, Charles Emeka (trainer) Darren French, Anurag Verna and Claude Hendrickson.
Bottom row (L to R): Aya Rehman, Beverley Brown, Sophie Haggerty (CLTN staff), Rebecca Seignior and Loic Rich.
Not pictured: Tom Johnston
Aya – Forest CLT (London)
creative design processes

community engagement
(Aya is a trained peer researcher)
Anurag – RUSS (London)
trained architect

sustainable self-build
Beverley – Leeds Community Homes (West Yorkshire)
housing industry consultant

social investment
Claude – Leeds Community Homes (West Yorkshire)
self help housing

policy adviser to Leeds City Council

BAME and LGBTQ+ adviser
Darren – Hastings Commons (East Sussex)
bottom-up development

mental health benefits of CLH

stewardship of non-housing assets
Jacqui – Bronllys Well Being Park CLT (Powys)
partnerships with anchor organisations

health and social wellbeing of a community

national policy
Loic – Truro CLT (Cornwall)
housing for young people

housing for the homeless

local politics (Loic is a councillor)
Rebecca – Larkrise Cohousing CLT (Herefordshire)
single parenting

rural housing

community cohesion and social connection
Tom – Glendale Gateway Trust (Northumberland)
former CEO and current CLH adviser

partnership working

regeneration of existing buildings and high streets
EMAIL US TODAY TO BOOK AN AMBASSADOR
Email us at [email protected] to book an ambassador for your event today. Let us know if you have someone specific in mind or if you'd like us to suggest the person with the best-suited experience.