Success Stories
Get inspired by CLT projects of all types across England and Wales
Whether in rural or urban communities, an area suffering from disinvestment or made unaffordable by holiday homes –
For all this, and everything in-between, CLTs put communities in the driving seat.
CLTs as part of wider place regeneration with discount market value and resale covenant - London CLT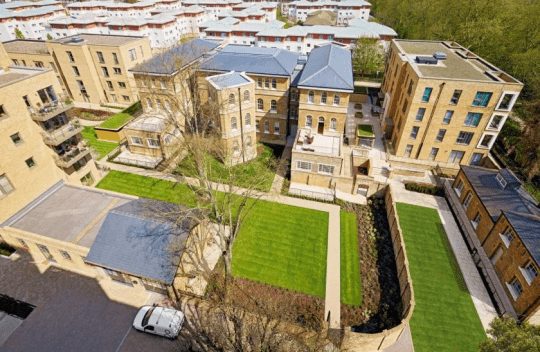 London is an expensive city to live in. In 2017 house prices were 13 times annual average earnings, and rents were incredibly high. Tens of thousands are on local authority housing waiting lists. London CLT has not just created genuinely affordable homes for the long-term but has also supported an increased sense of community. The decision of the Greater London Authority to include them in wider regeneration schemes proved essential.
In 2012, London hosted the Olympic games. It was decided a CLT able to deliver genuinely affordable homes for local people would be part of the Olympics legacy, so in 2007, London CLT (initially called the East London CLT) was set up. 
The buzz of the games allowed London CLT to recreate the community spirit of the games on the site of an old hospital, St Clements in Mile End, with film festivals and by engaging with local artists. As a result, the community felt a sense of belonging to the site and a community share offer raised £450,000 for pre-development costs for future projects. 
They have since created affordable homes as part of bigger schemes, working with a range of partners to deliver CLT homes as part of the affordable homes mix. The first were on the St Clements Hospital site because the Greater London Authority insisted the CLT were part of the approved scheme. They created 23 affordable CLT homes for people with a local connection. The homes were made affordable by linking the price to local earnings. A two-bed home cost more than £350,000 less than at market value. The CLT was inundated with applications. The homes can only be sold at prices based on local incomes. All owners are members of the CLT and ground rents paid to the CLT are ploughed into projects where the community will benefit. 
London CLT is now working on four further projects, in Lewisham, Shadwell, Lambeth and Redbridge.
Using the Neighbourhood Plan to enable CLT led housing & town centre regeneration in a left behind area - Dinnington CLT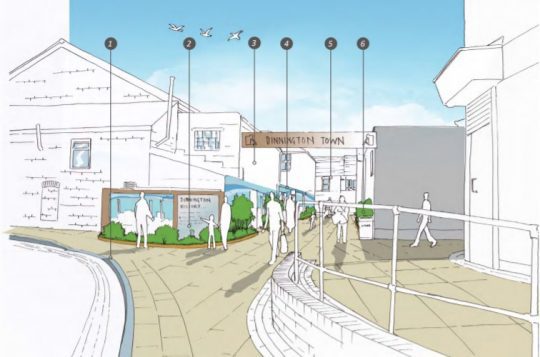 South Yorkshire ex-mining town, Dinnington, has never really recovered from the closure of the pit. But a tremendous sense of spirit has bought the community together through their Neighbourhood Plan to shape and direct future developments. Reflecting community need, the plan covers regenerating their high street, creating sport and leisure facilities and new affordable housing for local people. 
There has been development and regeneration since the pit closed, but there's a feeling that not much of that has benefited local people. There are very few sports and community facilities, and prices for new homes are well higher than average local incomes allow.  The number of socially rented homes is falling fast. People in the area say they felt left behind not just by national policy and action, but also locally. 
So in 2016, a group of residents came together to create a new Neighbourhood Plan. They undertook a huge amount of community activity, resident engagement, speaking with local businesses and public service providers. Visioning workshops were held, and a Neighbourhood Plan that covered regeneration of the town centre improved green space and new sports and leisure facilities was born. Housing was also a major element of the plan with a vision for new social housing and restrictions on the number of non-affordable houses. 
 A community land trust was created to develop new social housing and improve rented housing stock, and to create new community facilities such as a community hub which would include sporting, health and educational facilities. 
Now, things are moving fast.  
Thanks to around £30,000 from the Community Housing Fund, a scheme for up to 30 rented affordable social homes with very high environmental standards is in development. They will be built on a piece of land abandoned for over 20 years and used to house Dinnington residents. 
An "Investment Partnership" has been created to deliver the neighbourhood plan. It's hoped funding from the Levelling Up Fund will enable town centre regeneration – new business start ups, management of vehicle flow, development of currently empty shops, improvement to existing shop frontage, with proposals for using space above shops as new affordable housing and potential for a health centre. 
Community led approach assists planning permission for modern methods of construction environmental scheme - Herstmonceux CLT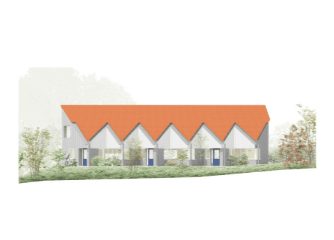 Engagement of local people in the design and planning of a scheme in Herstmonceux near Eastbourne has been vital in developing a new scheme of 17 CLT homes in this picturesque village. Modern methods of construction and a 'landscape led' approach means that the homes will be built far more quickly and will be way more energy efficient and carbon neutral than traditional building. Build time is only around 12 months
Three particular aspects have allowed this scheme to move on so quickly. The first was the landscape led approach which means the design very much fits the specific site and local area. Secondly, local community involvement in the design and planning was crucial when it came to the planning application which was passed unanimously with only 1 public objection. 
The third was the Community Housing Fund and a grant from the local council which financed the development work and planning approval. The CLT is really clear that without this finance the scheme would not be happening.
54 Affordable Homes Programme new homes in an area of high home prices thanks to the Community Housing Fund - Eastington CLT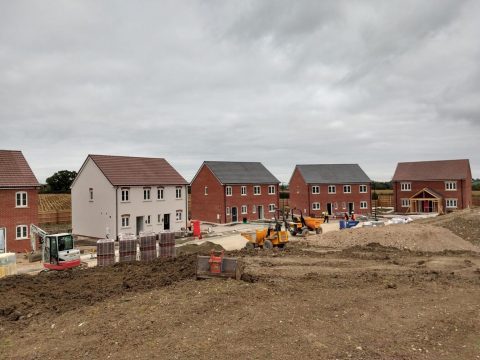 In Eastington and other villages on the edge of Stroud, there will be 54 new affordable homes thanks to Eastington CLT, the Community Housing Fund and a housing association partnership. 
Housing shortages have hit Eastington hard. Stroud was named the best place to live in the UK by the Sunday Times. Average house prices are nearly 10 times the average salary, and new families and young people were having to move out.  So the Parish Council created a CLT to deliver the new affordable 1 and 2 bedroom homes identified in their housing needs survey. 
The first stage was for 23 affordable homes at Fullers Close. With funding from the Community Housing Fund and other grants, initial development and feasibility work could be undertaken. Regular community engagement meant the community were behind the plan. Housing association Aster Homes came on board in 2019. Near a motorway, the scheme needed an additional £425,000 Community Housing Fund Infrastructure grant to cover additional major costs. 
Planning was approved because as they are CLT homes, they will remain affordable for rent by people with local links in perpetuity. 
Meanwhile, another 31 affordable homes were still needed so work started on phase two – 21 social rent and 10 shared ownership homes. An exception site was identified by the CLT and a £72,000 grant from the Community Housing Fund meant the CLT was able to start feasibility quickly. The CLT says, however, progress will slow without further CHF. 
Over 50 people, all with links to the village, moved into Fullers Close in time for Christmas 2020. Work on the other homes continues. The CLT is already looking at a third project.
New affordable homes in an area of deprivation where developers wouldn't build - Leeds Community Homes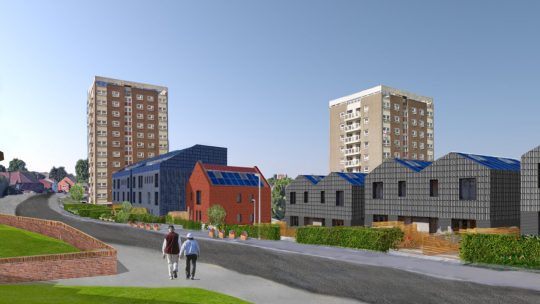 CLT Leeds Community Homes is about to build 34 new affordable homes in Armley, one of the most deprived parts of the city on land that no developer or housing association was willing to build on. The new homes will be funded in part through a community share offer. 
Leeds has many housing challenges. The council says the city needs 70,000 new homes and it owns this derelict land in Armley and wants new housing on it. But it is land with challenges for building as it is very sloped. Plus house prices and rents in the area are very low so returns would be low given the additional building costs. As a result, no one else wanted to build on them. 
However, as a CLT, Leeds Community Homes saw the opportunity. Using Community Housing Fund money and support from Power to Change they have been able to undertake the initial development work and secure planning consent for the new homes which will have higher than average environmental specifications. They will be available through a mix of affordable rent and shared ownership. The scheme also includes community space and has the potential to act as a catalyst for much needed other regeneration in the areas. 
Local people have been extensively involved in the design, planning and shaping of the proposals, particularly around the mix of housing, and the plans for the community open space around the site. 
It's expected building will start in April 2022. 
A faith based response to a housing crisis due to second homes, high house prices, low wages and low housing stock - Keswick Housing Trust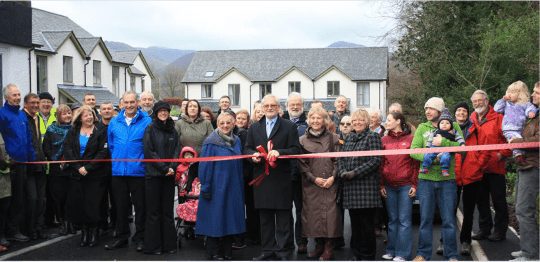 The Lake District may be one of the most beautiful parts of the country, but affordable housing for local people is tough. House prices are high when compared to low local average wages. A significant proportion of housing stock being second homes and holiday lets had led to many having to leave the area. 
In Keswick this has meant many local people, especially young people, have been forced out.  Even local housing association shared ownership properties were left empty as people struggled to pay both rent and mortgages on the low local wages. Local employers found themselves unable to recruit a local workforce.
After local Christian organisation Churches Together organised a series of meetings on topics of importance to the community, a CLT  was established – Keswick Community Housing Trust. Initially, the CLT was formed to develop a project on a piece of land offered by the Vicar of St John's Church, and later to address the local shortage of affordable housing through creating new permanent, sustainable and genuinely affordable housing for local people. 
The CLT now has a portfolio of 40 homes across 4 developments. The first, The Hopes by St Johns Church, has 11 homes, 10 of them affordable homes based on local earnings. The 11th was sold at market value to cross-subsidise the scheme. Banks Court took less than a year, as the CLT turned a disused toilet block they bought for £1 into 4 affordable rented flats. 22 affordable CLT homes in Calvert Way are part of a larger scheme in partnership with developer Atkinson Construction and Impact Housing Association. Southey Court created 4 homes from outbuildings at the rear of a Methodist Church, which opened its doors in August 2021.
Keswick Town Council covers the cost of the group's property management. All affordable homes go to people with local connections who are unable to buy or rent privately at market rates.
Gaining rural town planning permission when others couldn't in an AONB - Lyme Regis CLT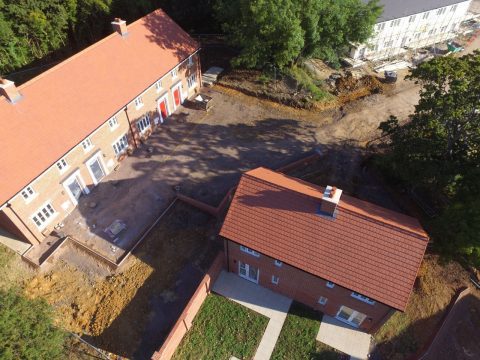 Lyme Regis CLT in Dorset is in an area of outstanding natural beauty. Restrictions on available land and building mean any plots that become available command high prices. And planning consent is notoriously hard to gain. But the CLT, with its community support, gained consent even where it was recommended to be turned down. 
Like many other picturesque seaside towns, housing for local people has become increasingly expensive and unavailable, with local people, especially young people and small families finding it hard to get accommodation allowing them to stay in the town. House prices and rents are high when compared to average local incomes. 
Lyme Regis CLT was set up to create affordable housing for people with a local connection. Having identified a potential site at Timber Hill for 17 homes for affordable rent, they were able to gain agreement with the landowner because they would be creating affordable housing as a rural exception. A developer wouldn't have been allowed to build market value on the houses. Community Housing Fund money enabled pre-planning development. 
Community engagement happened right from the start – public meetings, publicity in the local newspaper and talking with the Town Council. It would prove essential to gaining planning consent. 
When the planning permission application went before the council, officers recommended it be turned down. However, a delegation of supporters from the community, the partner housing association Yarlington, the architects Boon Brown, the Town Council, and Wessex CLT Project spoke in its favour. The proven support from the community and partners was persuasive and the Committee unanimously agreed to accept the plans.
The first residents moved in in February 2018.
Linking affordable housing with community business, the arts, skills development and high street regeneration - Homebaked CLT Liverpool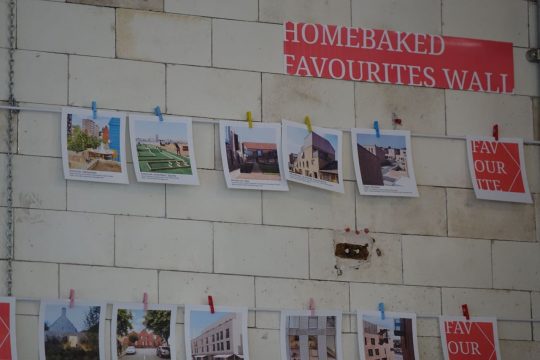 The name Anfield is known across the globe. Right by the football ground is an iconic bakery which was threatened with demolition until local residents came together to save it, and turn it into a community business with an affordable flat above. Now Homebaked CLT and other local community enterprises are using the same ideas to transform the adjacent derelict 9 property terrace for homes, community space and more enterprise. 
The heart of the Homebaked philosophy is involving local residents in all aspects, including the physical work. The architects worked with a group of local people who were able to direct and inform the design right from the start. Local people helped with the building and renovation work. 
The bakery is now a thriving cooperatively owned commercial business in space they rent from Homebaked CLT. The flat above is home to 4 people with an allocations policy that gives local people and those who volunteer at the bakery priority. People volunteer and then are mutually supported and helped to address other aspects of their lives. 
The new project will do the same. There will be 8 homes and 3 commercial spaces including a community brewery. Bread at one end, beer at the other. Local residents are working on the design and the whole scheme is considering how to better integrate living, commercial and local green space. 
Contractors are looking at how to employ and use local people in the work – as employees, trainees and/or volunteers – so there is as much local active involvement as possible. Financing comes from a variety of sources including a potential community shares officer and through generated income. 
Homebaked are creating high street regeneration in a left behind area of deprivation. They feel the active engagement of citizens in regenerating their high street 'brick by brick and loaf by loaf', meaning money spent in the neighbourhood benefits their own communities. 
Regenerating the high street, creating community facilities incorporating affordable housing rather than landbanking - Glendale Gateway Trust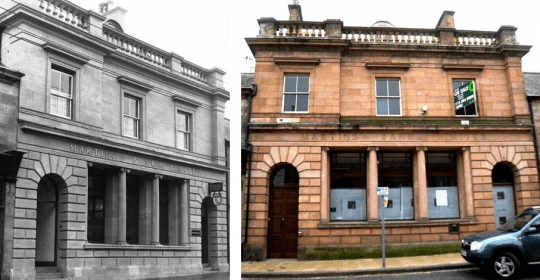 In the town of Wooler in Northumberland, CLT and Community Development Trust the Glendale Gateway Trust has been creating affordable housing and regenerating their town and high street at the same time, keeping local buildings in use and supporting the local economy. 
Wooler is in one of the least populated parts of the country and land values are high. Moreover, landbanking – where properties are bought for investment but sit empty – is rife. So the Trust has developed and run a number of community and business opportunities including affordable housing, whether stand-alone or incorporated into other schemes. A number of buildings on Wooler High Street have been kept in use and in community hands thanks to the Trust. 
Their developments have included a community hub in a disused Victorian workhouse and stand-alone affordable housing schemes such as in the old library building and where land was available to build on. They have also incorporated affordable housing into wider schemes. For example, they included housing in the Wooler Youth Drop – which also has shop/cafes on the high street, using funding from public sources, purchases and private loans. They have also created another 9 homes in empty buildings. 
Supporting the high street is crucially important to the Trust. In 2019 a historic disused bank building came on the market. They bought the building using funding and a community bond scheme. The first and second floors have been converted into two-bed affordable housing units, and the ground floor will be developed for commercial use and ultimately add value to the high street offer.
Working in partnership with a housing association to create affordable homes that wouldn't otherwise happen - Marshfield CLT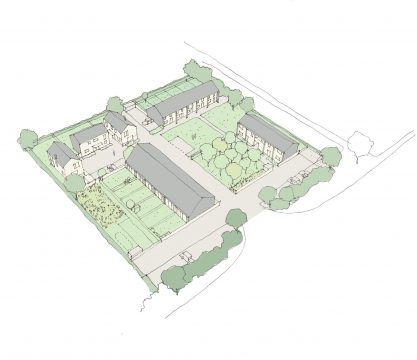 House prices in the popular rural community of Marshfield in South Gloucestershire are above average for the area. In 2016 local residents came together to successfully defeat a proposed commercial development, but this left the question of affordable housing for local people in the village unresolved. 
So Marshfield CLT (MCLT) was born with genuinely affordable housing for local people as well as a potential community owned renewable energy project on their agenda. They want to make Marshfield a sustainable village.
It took them over 2 years to find a potential site for some housing but supported by a housing need survey a rural exception site was identified. The Parish Council supported the scheme and an open village meeting wholeheartedly endorsed the choice of site.
A Community Housing Fund grant of £77,000 enabled them to undertake necessary feasibility work and to create a partnership with Brighter Places Housing Association. This partnership is essential to the scheme. Brighter Places will lease the site from MCLT, take responsibility for securing the finance and contracts to build the houses and provide the skills and experience to manage allocations and tenancies. The freehold will remain with MCLT which has committed to ensuring the houses remain affordable and for local people in the long term. Planning consent for 18 new homes was gained in May 2021, 15 built to Passivhaus standard. 10 of the homes will be available for social rent and 2 for shared ownership to people with a local connection and housing need.
Creating affordable eco homes with shared facilities and the community in control - RUSS London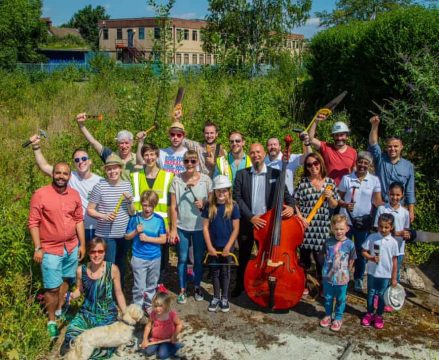 The Rural Urban Synthesis Society (RUSS) CLT in South London wants to create sustainable communities full of affordable homes and community facilities across London. Residents and the local community play a key role in designing, procuring, delivering and managing the homes and each scheme includes benefits for the wider community including training for residents and others. 
They have created a Community Hub which offers community/workspaces and is their base. In the hub, they also created a School of community led housing to share their knowledge and experience. 
Their flagship project is Church Grove, a former derelict school and industrial brownfield site on the same site as their hub. A group of future residents of all ages, backgrounds, employment and income were selected to oversee the project. 33 homes in a range of eco-housing and flats of different tenures, sizes and levels of self-build to suit many different types of residents will be built. 14 will be shared equity, 12 shared ownership, 6 rooms in two shared flats will be for affordable rent and 5 will be available for social rent.
The plans were co-designed by a group of future residents. Construction costs will be reduced by future residents, apprentices and community volunteers being part of the building. Residents who take part in construction will work in exchange for a discount corresponding to the amount saved by their work (sweat equity). The scheme has many indoor and outdoor spaces to promote community interaction like community terraces, a communal laundry and a shared guest bedroom and bathroom that can be booked by residents. The homes will be built for a sustainable future. 
Building will start in 2021. 
Creating over 230 sustainable affordable homes at a discount market sale - Cornwall CLT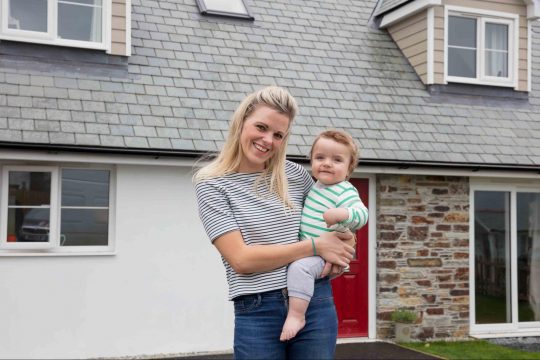 Cornwall CLT is one of the largest in the UK. So far it has delivered more than 230 affordable sustainable homes and has more in the pipeline. Their homes are mainly for sale but some are for rent. In a part of the country where house prices and rents are out of kilter with local wages, they pioneered a form of Discounted Market Sale, selling homes at discounts calculated to be affordable to median local incomes. All the schemes are tailored to the needs of local communities.  
They don't care just about building numbers of new homes, they also care about the quality of the homes. 
Their homes go above and beyond the UK basic building standards by using a charter in their construction standards guide. It includes 20 planning and building requirements in addition to UK basic building standards. This charter ensures all of their future build projects incorporate high standards of energy efficiency and ecology. Because the CLT also requires their projects ensure affordability, this charter highlights a forward-looking attitude to sustainability – that energy-efficient homes are also more affordable to run. 
Two organisations coming together to create homes from discussed public buildings and improving skills where developers aren't building - Balsall Heath Police Station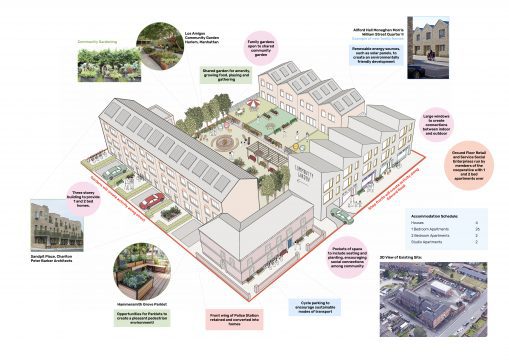 Balsall Heath, at the heart of Birmingham's Balti Triangle, is in need of more affordable housing. It has a lot of derelict land but developers aren't building because of low housing value in the area. So two organisations have come together in a new CLT to both create new affordable housing and jobs and skills. 
JERICHO and the St Paul's Community Development Trust have created Balsall Heath CLT. JERICHO runs a social enterprise professional construction company which gives employment opportunities to people who need them the most, including young people, ex-offenders and survivors of modern slavery. St Paul's Community Development Trust came out of a desire of local people to create a better future for their children. A CLT is an obvious partnership project for them. 
They now hope to develop a scheme on the site of the Balsall Heath Police Station, a large site big enough to enable housing and community and commercial space. As policing changes shape, a number of stations including this one have been identified for closure. Police and Crime Commissioners have been looking at how to dispose of the buildings and land. What could be more appropriate for a project which aims to make the community safer than an old police station?
They have plans for 34 homes, 30 at affordable rent, along with office and commercial space and communal gardens and play space. 
The next steps are to see if the West Midlands Police and Crime Commissioner is able to give the CLT first refusal on the site. If so, a funding application will be made to the Community Housing Fund for the work to get the scheme as far as planning. Bournville Village Trust Housing Association would manage the development once complete. 
The CLT movement is growing every day
Across the country, in urban and rural areas and across communities
CLT groups in England & Wales
CLT projects in England & Wales
CLT homes in the pipeline