Enabling CLTs
Building the market infrastructure to make community ownership commonplace

Enabling Community Land Trusts
We know that there are two necessary conditions to grow the CLT movement: an effective and self-sustaining body of expertise in the movement and wider industry, and a pattern-book of effective delivery pathways. We play a leadership role in the sector to bring these conditions about.
We work in partnership with the wider community sector and industry ecosystem to discover, define and develop more patterns, products and services. This helps achieve our mission of making community ownership of land and affordable housing commonplace.
Growth programme
We are working with the UK Cohousing Network and European CLT Network to run a Growth Programme for community led housing, including CLTs.
We have used techniques and concepts from service design, lean business start-ups and social impact scaling to create a six-month programme. Teams are taken through the Design Council's celebrated "double diamond process" to research and test assumptions before defining the core problem statement they want to tackle; then developing a workable product and service to solve the problem, and if all goes well delivering it. Our work stands on the shoulders of giants such as NESTA, Spring Impact, Young Foundation, the service design movement, and a whole range of accelerators and labs. Our CEOs Tom and Owen wrote a blog giving background on the programme.
The programme is currently being piloted with three teams:
Middlemarch CLH, to grow their successful service enabling CLT-housing association partnerships;
We Can Make, to find the right way to scale their succesful pilot nationwide;
Communities CAN, to roll out housing as part of high street regeneration across the North East.
This work has been supported by the Nationwide Foundation and the Laudes Foundation.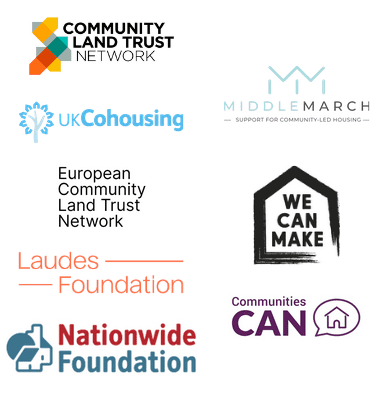 Investment in Enabler Hubs and Accredited Advisers
Since our formation in 2010 we have worked in partnership to invest in sub-national enabling infrastructure.
As the evidence – detailed below – has been developed, it has been clear to us that CLTs are best supported by locally-rooted organisations that can develop strong relationships with key local partners including local authorities, housing associations, developers, builders and landowners. These organisations also need strong leadership, and good knowledge and skills in the technical business of housebuilding as well as nurturing community organisations.
Since 2014 we have led on securing £12 million of investment in this from funders including the UK Government, Nationwide Foundation, Power to Change and Laudes Foundation.
We have worked collaboratively, particularly with the Confederation of Co-operative Housing and UK Cohousing Network, to invest in:
A one-stop website for community led housing for communities, local authorities and others – Community Led Homes
A training and accreditation programme for advisers wishing to offer services to communities and industry partners
Capacity building for 26 enabler hubs offering support services across a regional geography
Evidence base and research
We have produced, commissioned or advised on a growing body of research on how best to enable CLTs and community led housing. Our interest is in approaches that can achieve a sustainable step-change in scale, rather than those that are stop-start and heavily reliant on short-term grant programmes.
Key pieces of publicly-available research include:
We jointly commissioned, with UKCN, a six-month collaborative research process in 2022 that drew on this evidence base and an internal 'green paper' to review the state of the sector's infrastructure. This led to the creation of the Growth Programme.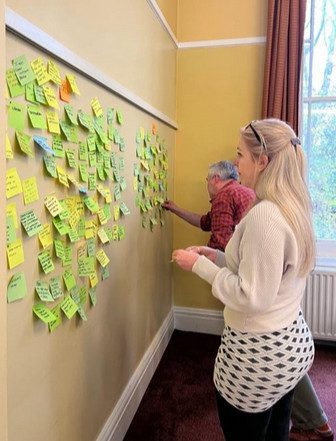 Become a member today
Build the future of housing