The Community Housing Fund Revenue Programme 2021/22 has awarded 52 grants to community organisations across England who are planning to deliver over 1,200 additional affordable homes. More than half of the bids were from community land trusts (CLTs), which remain the largest driver of growth in the community led housing sector. For more details, see the departmental press release.
The £4m grant programme is funded by the Department for Levelling Up, Housing and Communities (DLUHC) and aims to increase the availability of high quality, affordable housing, that directly addresses the needs of communities in England.
Revenue grants were made available to community led housing groups in the later stages of planning a project, who required support to submit a planning application, apply for capital funding and/or become ready to start on site.
The programme is funding projects of all sizes from small projects which are building a couple of affordable homes right up to large scale community led regeneration projects which will deliver over 150 new affordable units.
The programme is funding a huge variety of community led solutions to help solve local housing problems. As well as providing affordable housing, 30% of the projects are also addressing the needs of specific beneficiary groups. Examples include an unused site in a village being used to build affordable housing for young people and a new housing development is being built to cater for older LGBTQI+ members of the community. One project will be utilising terraced housing to house people recovering from substance abuse.
As well as building new homes, the programme is supporting empty buildings to be brought back into use as affordable housing. A former school, some farm buildings and a former care home are being converted into affordable housing for people who need it most.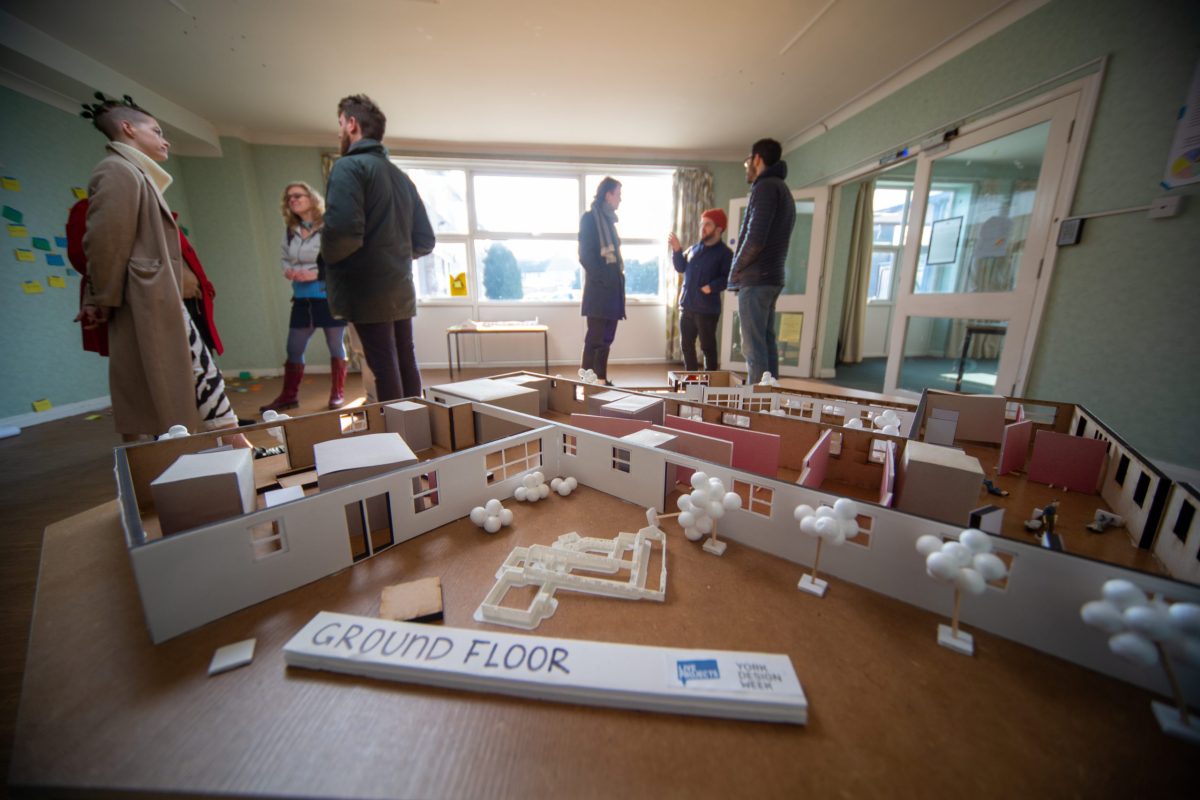 ©Ian Miles www.flashpointpictures.co.uk commissioned for a project by the Community Land Trust Network.
A design workshop organised by Yorspace with prospective residents in the Morrell House building, a former care home owned by the City of York Council (CYC). The building is being converted into affordable rental accommodation and will managed by a cooperative.
The fund is supporting a range of approaches to delivering community led housing. Almost half of the community led housing groups that are being funded are in the process of either becoming a Registered Provider or are already one, enabling communities to secure capital funding from the Government's Affordable Homes Programme. Many other groups are working in partnership with a housing association or other developers.
The Community Led Homes Partnership (CLH) is managing the grant programme. CLH is run by four leading community led housing organisations: Confederation of Co-operative Housing, Locality, Community Land Trust Network and UK Co-Housing.
Part of our Levelling Up mission is to build the quality homes that communities want and need. Community led housing is a great way to ensure local housing needs are met by putting local people in the driving seat.
It is about residents playing a leading and lasting role creating genuinely affordable homes which regenerate and restore pride in communities.
Community led housing groups are rooted in their communities and truly understand local housing needs. There are so many fantastic community led housing projects planned across the country. This programme will help many of these projects come to fruition.
Today's announcement follows the publication of the Bacon Review which recommended that reigniting the Community Housing Fund will create more opportunities for communities to build.