On Monday the Community Land Trust Network, four of its member CLTs and the
New Social Covenant Unit
hosted a webinar for Robert Jenrick MP, Secretary of State for Housing, Communities and Local Government.
Danny Kruger MP and Tom Chance (our Chief Executive) introduced the meeting, with Tom giving an overview of the CLT movement, its potential to grow and the policies that could unlock this potential.
The Community Land Trust Network is calling for long-term support through the Community Housing Fund and planning reforms that give CLTs permission in principle, extending the Rural Exception Site policy to all CLT developments in villages, towns and cities.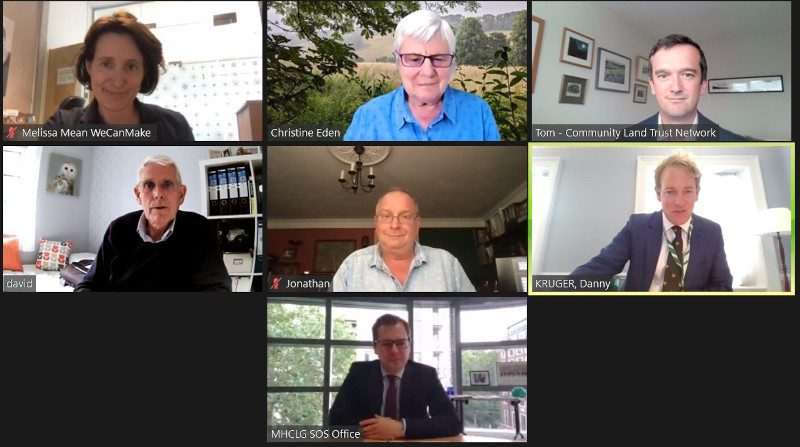 Melissa Mean from We Can Make CLT, David Dixon from Dinnington CLT, Christine Eden from Marshfield CLT and Jonathan Rosenberg from Walterton and Elgin Community Homes then each spoke about their CLTs, the factors behind their success and what they think the Government should do to support them.
The Secretary of State asked engaged questions throughout.
I am very pleased that the Secretary of State recognises that the Community Land Trust model can help solve England's housing crisis. Across the country entrepreneurial communities are taking on the challenge of building affordable, sustainable, attractive housing for local people. We put a number of suggestions to Mr Jenrick of how to improve regulations to support more CLTs, and he was receptive and agreed to consider these in the context of the Planning Bill.
The Secretary of State's ministry says its purpose is to give more power to local people to shape what happens in their area. As four of our members showed him, there can be no more powerful way than to give local people ownership of their land. Over the last decade we have established CLTs as a growing niche, and in the next ten years the Government could mainstream this approach in the way affordable homes and new settlements are built.
We have sent this letter to the Secretary of State following up the meeting.

The Community Land Trust Network and its members will continue to campaign for policy reforms that mainstream the community ownership of land and affordable housing.
Learn more about our vision for the CLT movement and current campaigns to make this a reality.
We Can Make is a community land trust rooted in Knowle West, a council-built estate in Bristol. We are part of a sector on the cusp of being able to deliver at scale and pace. Longer-term funding, the end of stop-start funding, and enabling the planning system to fast-track community-led schemes are vital changes Government could make now and would go a long way in levelling up the community sector to the delivery power of housing associations and the private sector.
Marshfield CLT will soon begin to build an affordable housing scheme for rent on the edge of its village, which is surrounded by green belt and set in an AONB. This achievement is due to both the power of local support and the Rural Exception Site planning regulations which enabled Marshfield CLT to secure the site and gain planning approval. I hope the Secretary of State saw that people want the power to shape what happens in their area but they need appropriate housing and planning regulations to help them do this.
I cannot emphasise enough that there is a significant feeling that a wind of change is moving through our communities here in Yorkshire. We have a feeling that there is a chance for us to wrest back control for our future and determine our own community development. We have so many areas that we can impact and the changes that the Secretary of State is addressing will be pivotal in our ability to build on our success so far.
Our members own and live in 700 homes, with a turnover of £4m a year and 94% of tenants satisfied with WECH as a landlord. Academic studies have shown our tenants are happier and healthier for having control and ownership over immediate circumstances and surroundings. The Government can realise the tremendous potential for transformative change that communities have, if only they can be trusted with ownership.